Diploma Courses in Theosophy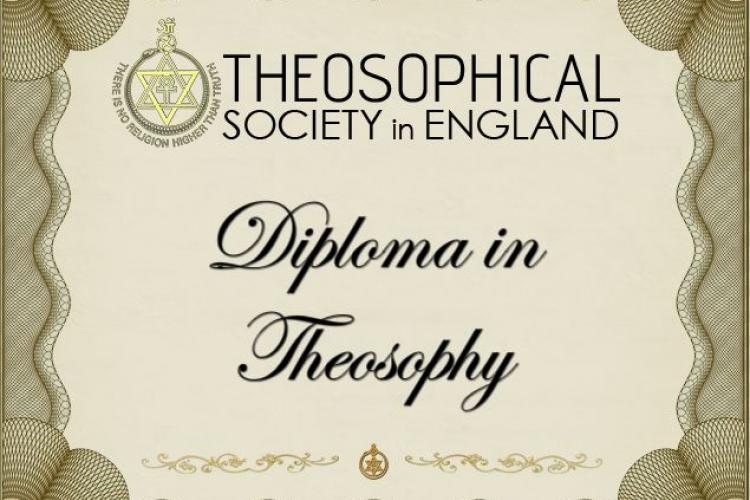 For those wishing to study the ancient wisdoms in a structured and progressive manner, The Theosophical Society in England offer a Diploma in Theosophy and Higher Diploma in Theosophy.  If you are interested in these wonderful programmes please see https://theosophicalsociety.org.uk/diploma
Diploma in Theosophy - Eric McGough
Theosophical Society in England
The Diploma develops a fuller understanding of the Ageless Wisdom, which is invaluable for many of the modern spiritual services, such as healing, spiritual counselling, yoga, and a host of therapies. Theosophical knowledge underpins the core principles and values which lie behind these activities. It is of interest to all those who have an enquiring mind and who wish to know about the esoteric teachings.
There have been many courses in Theosophy but never before a comprehensive Diploma awarded through examination. Only the Theosophical Society has the authority to offer a genuine Theosophical Diploma that carries some real value and will be respected as a true mark of achievement. The Diploma is not an academic award, yet it will nevertheless have a very meaningful and true value within spiritual circles.
The Diploma in Theosophy is an 'online' course and starts in March. The end of year examination will be held in November. The eight subjects will be released on a monthly schedule allowing flexible online open Learning with continued Tutor Support.
Applications for the next cohort will be accepted at any time of year.
Curriculum:
Subject 1   UNIVERSAL LAWS
Subject 2   KARMA AND REINCARNATION
Subject 3   HUMAN CONSTITUTION
Subject 4   COSMOGENESIS
Subject 5   INVOLUTION AND EVOLUTION
Subject 6   THE SEVEN PLANES
Subject 7   HIERARCHIES
Subject 8   CHAINS, ROUNDS & LIFE-WAVES
FOLLOWED BY TIME FOR REVISION –
CONCLUDING WITH A 3 PART EXAMINATION.
Higher Diploma in Theosophy
Students who have gained the Diploma in Theosophy are eligible to apply for The Higher Diploma. The Higher Diploma will build on the Wisdom Teachings as presented by the Diploma Course and seamlessly lead students into some of the deeper and inspiring aspects of Theosophy.
As the Higher Diploma approaches the teachings from a much deeper level, it is necessary to first do the Diploma Course in Theosophy. This ensures that students have understood the basic foundations of Theosophy before embarking on this more intensive course (May 2019). For information on times and dates see
https://theosophicalsociety.org.uk/diploma